Bucatini tuna peas masala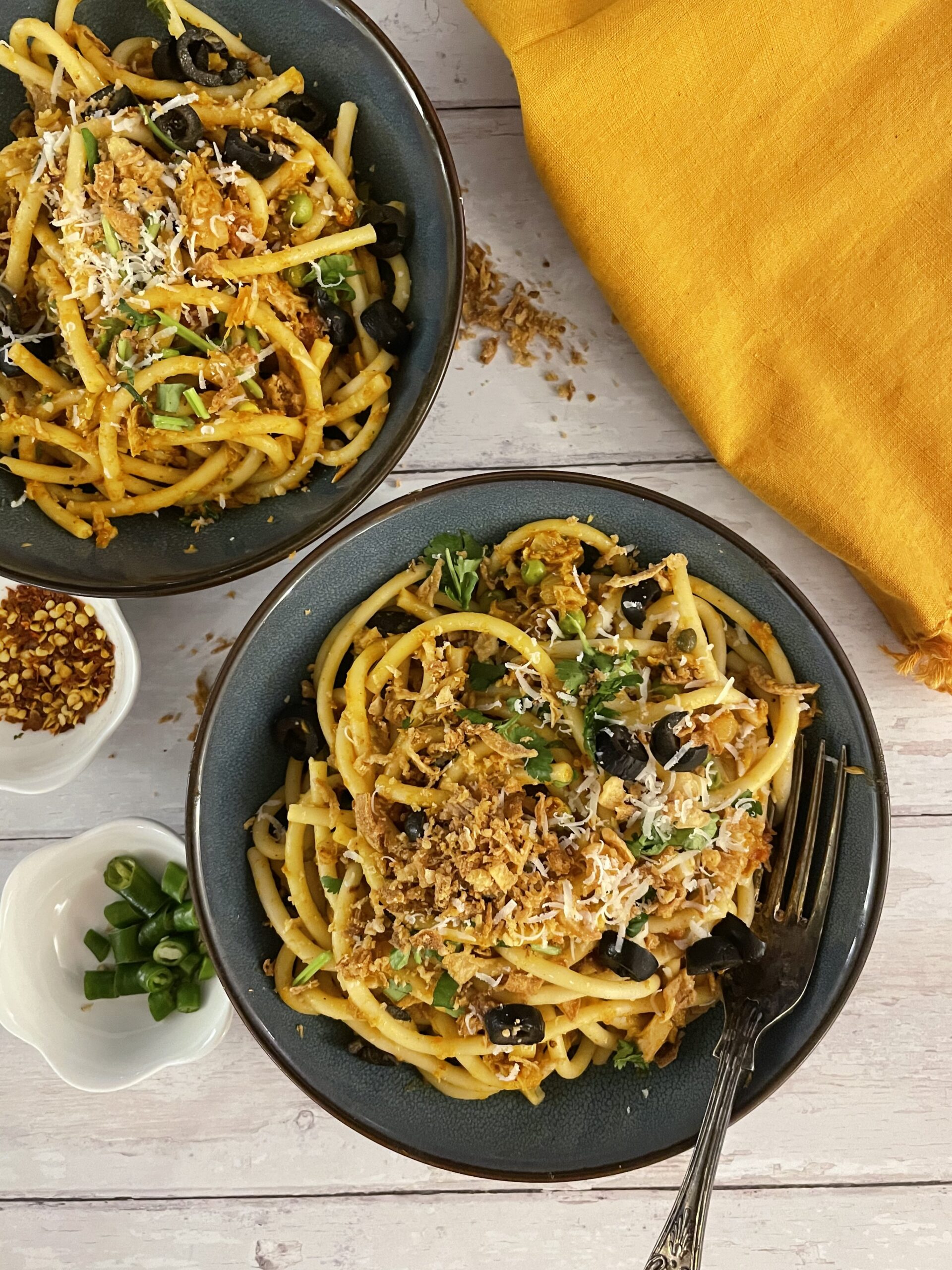 Adjust Servings
100

gms

bucatini pasta

olive oil for cooking

1

onion, finely chopped

1

tsp

fresh garlic grated

1

tsp

fresh ginger grated

1

1/2

can tinned tomato

1

can of tuna – drain the water

1

1/2

cup frozen peas – thawed and ready to use

1

tsp

turmeric powder

1

tsp

coriander powder

1

tsp

cumin powder

1

1/2

garam masala

3

green chillies, chopped

(optional)

Handful of black olives, sliced

(optional)

1

tbsp

capers

(optional)

2

tbsp

garlic cheese / cream cheese

Salt to taste

1

lemon

Handful of coriander leaves to garnish

Ready fried onions to garnish

(optional)

Generous amount of parmesan cheese to sprinkle on top
1.
Boil the pasta in salted water and cook until aldente
2.
Heat the olive oil n a pan. Add the chopped onions and sauté until golden brown.
3.
Add the ginger and garlic pastes and mix well.
4.
Now add the tomatoes and cook for a couple of minutes.
5.
Add the powdered spices, green chillies, and salt. Mix well and cook for a few minutes. Add some water if you find the mix is too thick.
6.
Now add the tuna to the pan and cook for a 2-3 minutes. Add the peas, olives and capers. Add water according to the consistency of the gravy. It should be thickish sauce.
7.
Cover and cook for 3-4 minutes.
8.
Add the cream cheese to the mix.
9.
Toss the cooked bucatini in the tuna and peas sauce and mix well.
10.
Squeeze some lemon juice and garnish with coriander leaves and crispy fried onions.
11.
Sprinkle some parmesan cheese and serve.