Mexican bhel puri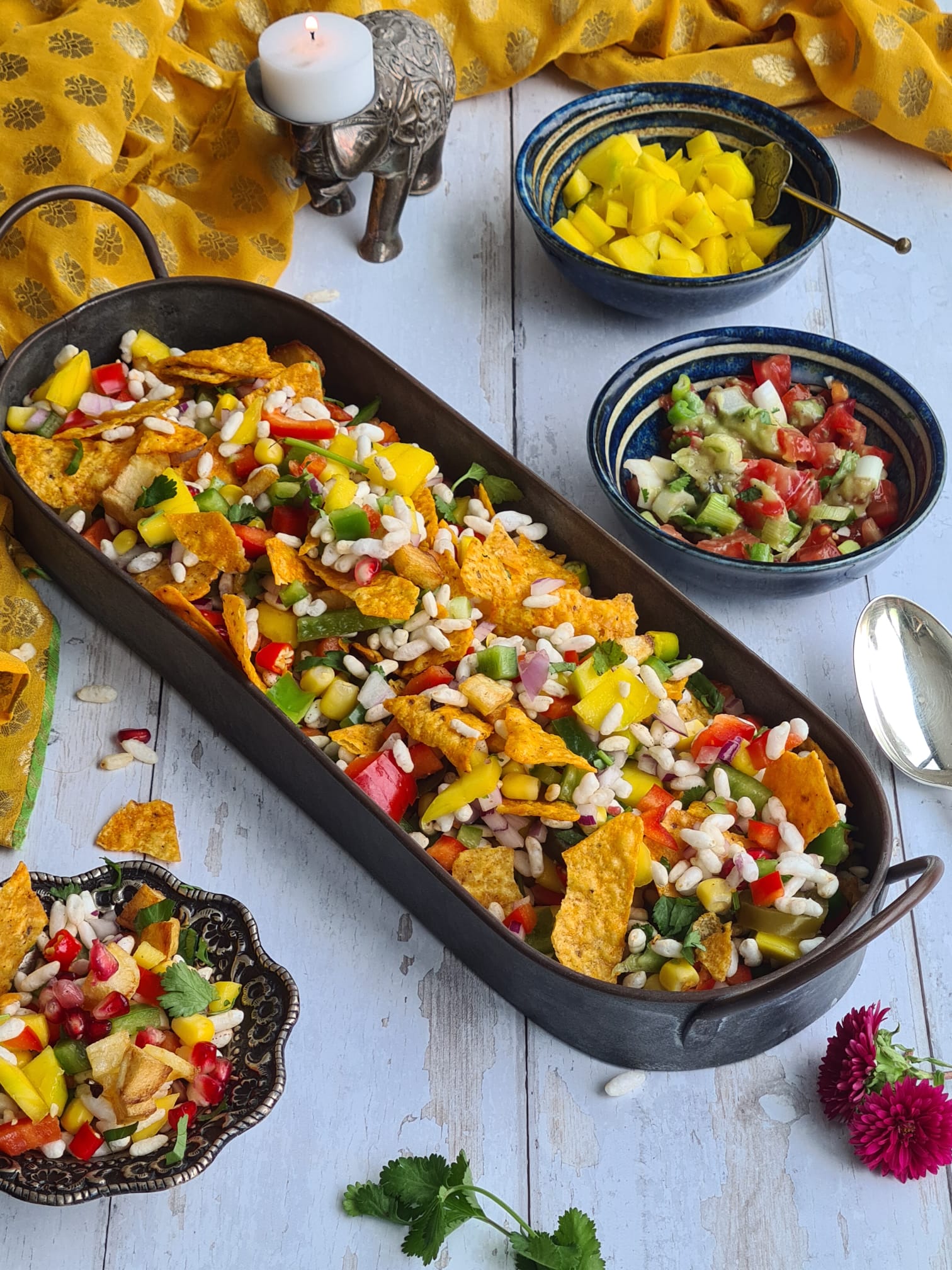 Adjust Servings
2

cups

puffed rice

2

packets of Doritos /Nachos (spicy ones /chilli heatwave)

2

medium

potatoes, chopped in small cubes, deep fried or sautéed

1

red onion, finely chopped

1

tomato, chopped

3

tbsp

tinned sweet corn

1

red pepper, finely chopped

1

green pepper, finely chopped

3

tbsp

pomegranate seeds

1

mango (South American variety), chopped

3

red and green chillies, finely chopped

2-3

2

tbsp

jalapeno peppers, chopped

1

bunch spring onions, chopped

1

1/2 cups

coriander leaves - chopped

2

Juiced limes

Salt to taste
1.
Take a large bowl, and add the ingredients in the order in which they have been listed above.
2.
Add the lime juice and salt just before serving
3.
This can be served on its own or with salsa.
4.
Your salsa options:
Tomato salsa – Mix chopped tomatoes, spring onions, avocado, chillies, lemon juice, coriander leaves and lime juice. Sprinkle some chaat masala and salt. Guacamole ( for a more Mexican flavour) – ready guacamole from Asda Green chutney ( for a more Mumbai flavour) – ready made green chutney sauce from Asda
Radikal tips
Keep all the ingredients ready before you start mixing everything for making bhel puri.
The puffed rice should be crisp.
This has to be served as soon as it is made and immediately. Leaving it late will make the whole bhel puri mixture soggy.
You can even add grated vegetables like carrots and beetroot.
The mangoes shouldn't be the sweet mangoes. These are the large green South American variety. You can also add raw mangoes when they are in season.