Strawberry Labneh – Creamy yoghurt dessert sweetened with honey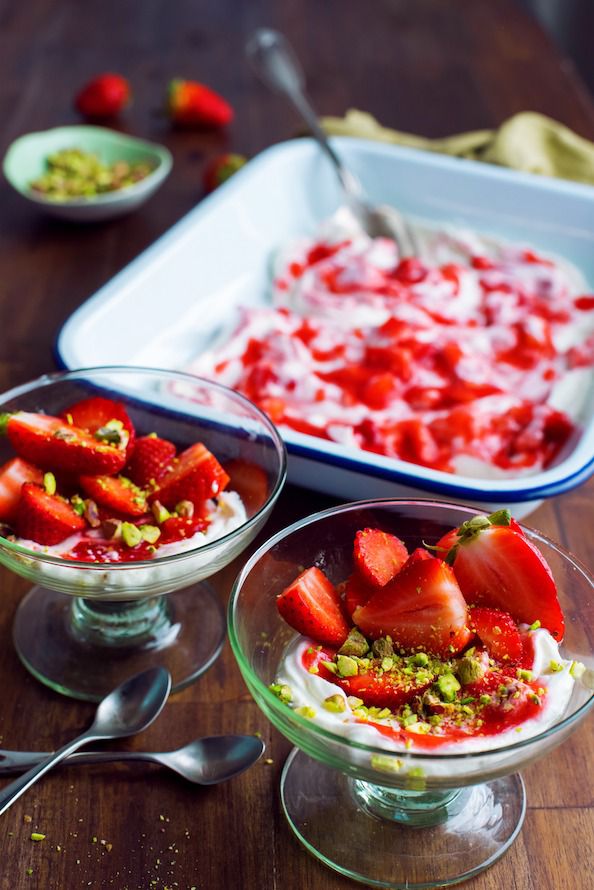 Adjust Servings
500

gms

Full-fat Yogurt / Greek Natural Yogurt, (hung yoghurt )

250

grams

Strawberries

2

tsp

Castor Sugar

2

tsp

Rosewater / Strawberry Essence

3

tbsp

Honey

Pistachios, Chopped to Garnish

Honey to Garnish

Handful of Strawberries to Garnish

A pinch of salt
1.
Mix thick yogurt with a pinch of salt. Transfer the content in a muslin cloth and hang over a deep bowl to drain water. Sit in fridge for approximately 4 hours.
2.
Add sugar and rosewater in ¼ of the strawberries and puree it.
3.
Chop the remaining strawberries and mix with pureed strawberries. Leave in fridge to soften.
4.
Remove hung curd after 4 hours. Add honey and fold in strawberry mixture.
5.
Garnish with sliced strawberries, crushed pistachios, drizzled honey and serve.
6.
Labneh is basically strained yogurt. You can buy it in some middle eastern stores, or make it at home, by draining the water out of the yogurt. The thicker you like your labneh, the longer you'll have to drain it.